Quick Print and Mail Outsourcing
Are you printing and mailing in-house? Are you considering outsourcing print and mail tasks for your business? If you can answer yes to either of these questions, it is time to consider Towne Mailer. At Towne Mailer, we understand the cost of doing business. We offer substantial, high-quality solutions to everyday business needs and produce tangible results for your bottom line. We are one of the top services, and we are also in the business of saving your time and increasing your revenue.
For nearly twenty years, the team at Towne Mailer has been dedicated to offering the most professional outsourcing print to clients across the USA.
How do we do it? Simple. As one of the most sought after statement and invoice print production companies, we focus on quality, efficiency, and most importantly, customer care. Best practices begin and end with good communication. We understand the importance of clear, fast, and economical correspondence with your customers. That is our goal.
With nearly two decades of service to prove it, we also understand the importance of communicating with your customers and how that impacts business functions. That's why we print and deliver your mail accurately and on time, ensuring consistent and professional communication between you and your clients.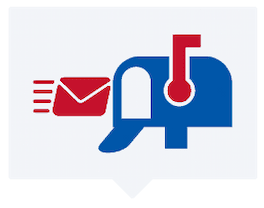 Specialized Print and Mail Outsourcing
We specialize in one thing: professional print and mail outsource. Utilizing a streamlined approach allows us to be market leaders. When it comes to speed, accuracy, economy, professionalism, and outstanding quality, you will find us to be of exceptional value. Although our daily procedure is printing, processing, and mailing, each day begins and ends with you, our client.
How Can We Help You With Our Print and Mail Outsourcing Services in the USA?
Letters
Statements
Invoices
Bills
Direct Mail
Notices
Newsletters
Marketing pieces
Fliers
Coupons
And More
In addition to outsourcing print and mail for your business, we will also assist you in creating your content. From letter, invoice, and statement layout and design, to creating job reports related to your mailings, we can assist you with any special communications projects and ideas you have.
Why Outsource Print & Mail Tasks?
We live in a great time to be a business owner. With the advent of the Internet and quality technology like personal printers, there is so much we can do ourselves. But for optimal efficiency, outsourcing print to the experts is the best business strategy. What are the benefits of outsourcing print and mail tasks within your business? The answer is simple: we can print & mail a letter, invoice, or statement in less time and for less cost than you can.
Consider This
How much time do you and your employees spend each day printing and processing mail? Wouldn't you rather use that time to acquire and serve customers, train employees, or invest in your business in other ways? Not only can we check these items off your to-do list for less cost, but we can also do it in less time. Printing supplies, equipment, and processing areas all take up a significant amount of space and capital investment. Outsourcing print and mail to Towne Mailer means more space to expand your business or even save on rent and production costs.
Here's Another Question
Is it better to work hard or smart? How about both? Outsourcing print and mail tasks to a professional means making your print and mail production as efficient as possible. You and your employees can avoid mundane print mail tasks and can focus on what's most important: customer care and revenue growth. Our quality assurance process, job reports, and our overall experience mean that your mailings will be extremely accurate. This also means that you'll have an organized history of all your mailings on file.
Have you heard the saying, "dress for the job you want, not the one you have?" By outsourcing print and mail production to us, you present a professional image. We have the professional tools and equipment necessary to present to your customers the proper image you wish to convey.
Are you striving to hit the elusive "Net 30" regarding your account receivables? Do you have to put important projects on the back burner until more and more customers deliver on their end? Sending out clear, timely, and regular invoices, bills, and statements make your customers more likely to make timely payments. These are just some of Towne Mailer's biggest benefits. In addition to everything above, we deliver stellar customer service, resulting in satisfied clients and ensuring long-term relationships.
Our Unique Process
Are you curious to know what it is like to outsource your invoice services to a professional? Are you worried that you and your client's information will be at risk? This is just one more reason to choose the team at Towne Mailer. Our invoice, letter, statement, and bill services have been perfected over two decades. Each step in our process is meant to be fast, secure, and cost­ efficient. Here's how our services reduce costs:
How Our Simple Process Works
You tell us your mailing needs. Let us know what you need mailed

whether it be bills, statements, invoices, letters, notices, bulk mail, marketing brochures, or anything else.

We tell you an estimate and time frame including how much your outsourced print will cost and how long it will take us to complete. Standard jobs come with a 24­hour guarantee.
You upload your data. You upload your data onto our secure server which only takes you a couple of minutes. Then you're done!
Once the order is complete, we provide you with a sample run without cost or obligation, another feature that gives you the peace of mind to know your outsourced print needs are in good hands. After that, we print, process, and mail your documents. In minutes, we can print hundreds of your pages with our state of the art, high-speed professional printers. We will fold and stuff your documents into envelopes – including all the necessary return envelopes, inserts, and anything else you need – and mail them. All correspondence is addressed, metered, and bundled by zip code. We will carefully pack and deliver to the post office, ensuring quality is checked every step of the way.
Once every phase of our service is complete, you will receive reports about the job. This includes a bad address report so that you know exactly what was and wasn't delivered. During this entire process, it is important to us that you are informed and happy. Feel free to call our team any time during the statement print and mail process with questions. We hope you'll be pleasantly surprised when a voice you recognize answers the phone.
Who Can Benefit From Towne Mailer?
We pride ourselves on the diversity of our outsourced print and mail service to clients and all the amazing work that they achieve. And we want to make that work easier for each and every one of them by alleviating the worry of print mail tasks. We can happily accommodate those needs. We provide professional services to hundreds of successful business types, from large hospitals and municipalities to small, local, family-owned shops. If you're a business with print & mail requirements, we can save many companies time and costs associated with the production of invoicing and statements. We cover a broad range of industries. For a partial list, see the industries and businesses we serve.
The best way to find out if outsourcing print and mail to a professional is right for your business is to find out exactly what it's like to work with us.
Let us know exactly what services we can help you with and we'll let you know exactly how much we can reduce your costs as well as time and effort.
We offer free, no-obligation professional print mail outsourcing quotes that can help you clearly make the best decision for you and your business' needs. How does getting a free quote work?
Simply fill out the REQUEST A QUOTE form or call our offices at 877-882-6245. A team member will let you know what information we need to get started and be able to answer any other questions you may have.
Don't continue to wonder if you could improve your business by outsourcing your print and mail production. Find out now!